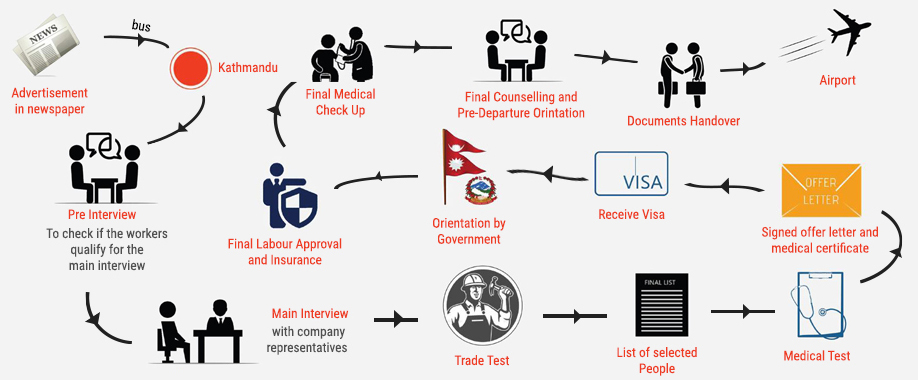 1. Initial Enquiry from employer:
You may contact recruitment companies directly and discuss your specific requirement and details on terms and conditions of service for Nepali workers.
2. Legal Documents: from employer for government formalities.
Once requirement is confirmed and initial agreement is made between recruitment companies (Nepal) and employer regarding terms and conditions and selection process, as per Nepalese Government labor law requires employing company to produce following duly authenticated/ attested documents in favor of recruitment companies (Nepal) to finalize the recruiting process:
      1. Power of Attorney between Recruiting Agent and Employer.
        2. Demand Letter listing the manpower requirement and terms and conditions.
        3. Employment Contract including terms and conditions of service.
        4. Recruitment Service Agreement listing each party responsibility.
        5. Guarantee letter confirming country of employment.
Once above original documents are received from employer, recruitment companies will submit application to Department of Labor for authorization.
2. Pre-Labour Approval:
After receiving the authorized demand letter from the company, the document are presented for pre- labor approval. The department of Labor in Nepal analyzes the document and approve for further processing.
3. Manpower Pooling: Advertisement, Screening and short listing.
Once The Department of Labor is satisfied about the credibility of the demand, attestation and terms and conditions offered are conformity with the government regulation. The Government grants the permission to recruiting agency for advertise the requirement in local and national newspapers and start of recruitment process. Recruitment Company starts screening and short listing candidates before final interview. The process includes:
          1. Print and Broadcast Media Advertisement
            2. On-the-spot-sourcing (City and Provincial)
            3. Through Our Highly Qualified Agents
            4. Recommended Personnel
            5. Internal Candidate Bank
4. Selection :
The mode of selection of contract workers may be executed under the following procedures:
Preliminary Interview:
We maintain up to date data bank of potential candidate with full information on their skill and education, technical knowhow and experience as per the employer criterion. Wise Overseas will short list the candidate for pre-interview and determine the capabilities of each applicant via one-on-one interviews to ascertain who are most qualified and fit for the employer's final selection.
Final Interview/Selection:
Selection by Employer's Authorized Representative, Recruitment Company Personnel.
Direct Interview (by Employer): Many employers visit Nepal for final interview. We make all necessary preparations for interview. We call short listed candidates for the particular day.
Interview on behalf of Employer: Sometimes manpower importing agencies give full authority to manpower consultant for entire selection procedures. In such case, we carry out interviews on behalf of employers abroad and make all dispatching arrangements to the employment destination. The selection is made purely merit basis and finally select the most competent workers from our manpower reserve.
Interview through Skype: Sometimes manpower importing agencies select the candidate through interview via online (Skype). We have all the necessary arrangements for this process.
Transmittal of Resumes: Employer may select the candidates from the Resumes of all Prospective candidates. We forward the resumes of candidates of who pass the pre-qualification interview and testing conducted at our end. In such cases, the name of the successful candidates may be relayed to us via phone, fax, or email.
5. Full Documentation Assistance:
We provide the selected applicants' assistance in securing the travel documents required by both Labour Office and Embassy, like Trade Test, Passport, Police Clearance, Medical Certificate, Orientation and Exit Pass.
6. Medical Checkup:
The selected candidates are sent to an authorized hospital or clinics for a full medical examination (and vaccination where required). The candidates who are medically and physically fit for employment are forwarded for recruitment process such as contract signing, visa processing.
7. Employment Visa Process:
Once selected candidates are medically and physically fit, employer has to process their employment visa. The Visa system varies country to country. Where paper visa system available, employer has to make copy of issued visa available to recruitment companies as soon as visa is issued for individuals for government clearance for mobilization. Where visa has to be endorsed onto a passport, employing company has provided all necessary documents to assist visa endorsement from embassy of employing country.
8. Orientation:
Nepal labor law requires all new candidates traveling overseas for employment take orientation class to familiarize local laws & orders, labor laws and immigration policy, environment and tradition and culture of employing country. Candidates should also understand their responsibilities, terms and conditions and benefits of employment prior to submitting for final approval for mobilization.
9. Final Labour Approval: (Government Clearance)
All the necessary documents like original passport, visa copy (original if not issued online), medical report, orientation certificate, insurance policy are submitted in Labor Department of Nepal for final approval and immigration clearance. The Department of Labor analyzes the documents and provides final approval.
11. Travel Arrangement:
Once paper visa is received or visa is endorsed from embassy of employing country, Employer may process for the flight (E-Ticket) or Wise Overseas will make necessary arrangement for flight ticket and departure.
12. Reception from Employer:
After the flight is confirmed we send flight details to our employer. Representative from employer will receive the candidate from airport and arrange hostel for them. Employer will provide the respective job duties to the candidates as per the employment agreement.